What is Email Marketing?
Email advertising is one of many types of digital marketing. It works on the idea of sending an electronic mail instead of a postal service. The primary aim is to promote and develop impending relationships with customers.
Email marketing helps you connect with the audience via mass email service. You can segment your audience using email marketing software and create personalized emails
Why Email Marketing should be your focus area in Digital Marketing Strategy?
Top Email Marketing Strategy in 2020
With a lot of distinct platforms for communication, Email is thought to be a primitive and least effective method of promotion. However, it's the other way around. Let's prove it.
There are more than four billion people who use email Ids for business and personal use. Most of them own more than one Email accounts. Professional and dedicated clients know that an Email is enriched with more authentic and persuasive content than any other social media platform.
Sharing promotional content on the social media platform means keeping all customers on the same page. However, sending an email with promotional content and addressing the client individually can create different and positive feedback from the client.
While most of the businesses use social media platforms, the ones using the email marketing strategy will stand out
In 2020, Email marketing services are evolving. Trends show that Artificial Intelligence has a strong role to play in Email advertising and emailing solutions
Thus, Email Marketing including email newsletter service or lead magnets is the top strategy for all the right reasons. Additionally,
Exclusive content with relevant Subject Line

To exploit customer engagement and conversion and to make them react quickly to your email, exclusive offers should be an integral part of the message. Offers available for a limited time and a limited number of people are more attractive and seem more valuable.
It may also include lead magnets. Offer your customers something to download, a picture or a broacher. It not only attract customers but helps you as well
The subject line decides if the email would be opened or marked as read. To make it engaging, add the recipient's name in the subject line. Moreover, consistency is key. Let your customers know what is there in the email with a glimpse in the subject line
Email Segmentation

Categorizing subscribers in small segments is based on a specified criterion.
Segments help the brands in targeted promotions based on their interest
Automating Emails with Autoresponders

Autoresponders can be used to send a sequence of emails that are sent to a specific segment of customers in response to any specific event.
Avoiding Spam filters

Be relevant and consistent. Avoid giving your customer second thoughts regarding opening the email.
Use a clear subject line to tell the customer about your offerings
Testing the Email

A/B test an email operation. It works in a way that out of two options that are most suitable in terms of opens or clicks.
Testing can be conducted with different layouts and check which one comes up with more click-through.
Ultimately, an Email is a contact between the company and the customers. Emailing engaging content on the success, failure, challenges, and achievements of the brand can attract customers rapidly.
The tone of the email should be responsive and conversational. Don't forget to thank your customers for being there for you. Gratitude can do wonders
3 Best Email Marketing Software Comparison
Here are some of the top Email Marketing tools you may use to expand your business
ConvertKit is simple to use, clean, user-friendly and extremely functional Email Marketing Software that enables its customers in running a successful business and provides an effective way of running email marketing campaigns. It is super easy to use with a very reasonable monthly fee. Though a newcomer in Email Marketing, this software is gaining popularity.
Along with Email Marketing Campaigns, Convertkit helps you to create Stunning Landing Pages and Forms that converts. You have full flexibility to position and time those landing pages and forms for maximum exposure and growth. All this comes with a beautiful platform that is easy to navigate and an amazing Support Team.
Basic customizations are very easy and handy. However, to get more customizations, you will have to use HTML templates to make your emails look more gorgeous

DigitalMarketinglane.com
Features of Convertkit
Convertkit Pricing
Convertkit offers one of the best free email services to start with.
The pricing depends on the number of subscribers and the features you would like to avail of.
In case you opt for Annual Billing, you can avail Free subscription for 2 months i.e 12 months in the price of 10 Months!
Pricing is as Follows –
Up to 1000 – $29/m ( Free if you are able to signup 10 Friends with your referral code)
1000 -3000 – $49/m
3000-5000 – $79/m
5000-8000 – $99/Month
Over 8000 Subscribers – Check here!
Why Migrate to Convertkit
Before Buying or migrating to Converkit, let's look at a few of these Testimonials below.
Convertkit is Great if you throw up a store or web property and you want basic email funneling for follow-ups and don't want to spend weeks setting up the backend email system. A worthy contender when choosing your next email automation software. Pricing is pretty good too and scales pretty well.
Convertkit is super easy to learn and the automation is diverse and straightforward. I love the ease of creating broadcasts and the multiple steps it requires to send one (for safety!). I've had great customer service experiences in the past 3 years!
To help you further, check out the resources listed below to gain more information on Converkit –
Aweber had been the go-to email marketing software since 1998. It is definitely an exceptional tool for email newsletters and Email Drip Campaigns
An established industry leader starting with a 30-day free trial, Aweber is one great email automation software with attractive features and a perfect partner to expand your business. Pricing of Aweber depends on the number of subscribers you have.
Aweber is one exclusive email service provider that has Image Carousel — powered by AMP for Email.
This powerfully-simple new feature lets you send your audience emails that contain dynamic and interactive content that can be seen directly inside the inbox.
Click on the image below and see yourself how easy it is to generate custom email templates within seconds!

Features of Aweber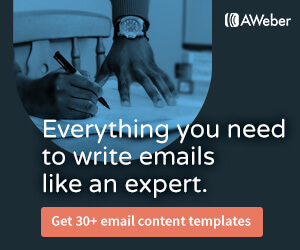 Looking for Detailed Aweber Features and Reviews? Click to read our exclusive coverage on Aweber
Aweber Pricing
You can try Aweber FREE for 30 DAYS. When you signup with Aweber, Following is included with your Plan –
Access to their email experts who are here 7 days a week to help you get better.
Easy-to-use tools to help you create emails, sign up forms and more to engage your subscribers.
Industry-leading deliverability to help make sure your emails make it to the inbox.
Simple email automation to get the right message to the right person at the right time.
Connect to social media, landing pages, shopping carts, and many more integrations to get the most out of your email marketing campaign.
When you choose to upgrade, the price is positioned on the basis of Number of Subscribers as follows –
Pricing is as Follows –
Up to 500 – $19m
501-2500 – $29/m
2501 – 5000 – $49/m
5001 -10,000 – $69/m
10,001 – 25,000 – $149
50,00 – 100,000 – Request a quote here
Hubspot Free Email Marketing
HubSpot is an all-in-one marketing software and offers a diverse and smart software offering that comprises Email Marketing Software, CRM and landing page capabilities. To help all marketers leverage the full power of their CRM in their marketing campaigns, HubSpot has added email marketing into their free CRM
It's designed to meet the requirements of customers running small to mid-size businesses to large businesses, as it also helps them with SEO, attracting, nurturing and converting leads.
Hubspot's smart Lead management, Sales Enablement tools make it easy for any smart marketer or an organization to automate business. It is best for entrepreneurs, marketers, and organizations who are in sales driven business and need various tools to serve their clients and increase the product reach.
A significant benefit is that everything comes as a bundle present in one suite and thus it eliminates the need to have multiple software and hire multiple people to manage the same business. This brings all your data and data usage in one single place saving time and effort.
Following the freemium model, the core services of the Hubspot CRM are free
HubSpot Free Email marketing
HubSpot Free Email marketing tool is part of HubSpot Marketing Hub. It is the all-in-one free tool generate and track leads, build an email list, and track user behavior on your website
When a lead shares their email, you'll have real-time data on who they are, their company, and what pages they visited.
With HubSpot Marketing Free, you'll have insight into what's working and what's not such as what content or traffic sources are driving the most conversions.
Features of HubSpot Email Marketing Software
With HubSpot's email tool, you can –
● Send up to 2000 emails a month
● Segment your contact database into lists
● Personalize your emails using any CRM property
● Report on your email's overall success and see how each contact interacted with your email campaigns
All this comes for Free – true, it is free.
HubSpot Free CRM
A good email marketing tool is a must-have for marketers today. But along with a great Email Marketing tool, while creating automated and personalized email campaigns, all marketers should be leveraging a CRM too.
A CRM gives the marketer a centralized view of the customer experience they're working to create and lets them ensure that their emails are personalized for each recipient, at whatever stage of the buyer's journey, they are in.
HubSpot Free Templates – Download here
Comparison Convertkit vs Aweber Vs HubSpot
Pricing Convertkit Vs Aweber
Out of these three Convertkit and Hubspot's freemium version offers a lot. For the first few thousand subscribers, both provide a Free feature-limited version for up to 1k subscribers

A significant change in pricing occurs when subscribers increase beyond 3000. However, with this many subscribers, the pricing of the Email automation software will not seem much burden. In terms of price, Convertkit and Aweber are most recommended
HubSpot offers a variety with its CRM capabilities but it is recommended for small to mid-size business with significant ARR
Pop Up Forms and Landing Pages
The registration form features of Aweber are very powerful. However, they are not free so you will have to pay for them.
Using ConvertKit registration forms or Landing Page is easier and simple and comes free with the software buy
Email Automation
When it comes to Email automation, Aweber makes it easier for the users to set the automation.
Visual automation feature of the ConvertKit surpasses all other in the race. It has made automation easier than ever
Ease of Use
When it comes to ease of use, ConvertKit offers fast, intuitive and easy to navigate user interface. Aweber also provides very user-friendly features
All important features of the ConvertKit are just one click away
Design testing
Aweber does not have the feature of Design testing.
ConvertKit only offers a final preview and no design testing.
HubSpot Offers Design testing features
Deliverability of Emails
For Mobile deliverability, all three HubSpot, Aweber and ConvertKit qualify in the deliverability with a higher rate of landing in the inbox of the subscribers.
Templates Available
Convertkit provides fewer templates but all of them are organized according to their type and usage

It provides 3 email designs providing lesser options for the users to choose from.
What Email Marketing Software to choose in 2020?
Email marketing is one of the most wanted promotional trends in 2020. If you plan to flourish through this approach, it is imperative to follow some of the best practices for the Email marketing strategy.
As listed above there are several Email marketing tools that can make your job easier. Choose the ones that suit your brand and let your potential clients know that you care for them.
FTC ​Disclosure:​ We earn a small commission if you use our referral links to make a purchase. This won't cost you anything but it will help us to keep building such content to educate others. Please share if you like this content